Between Carnac and La Trinité sur Mer
Continuing the coastal path, this circuit links La Trinité sur Mer with Carnac..
It follows the beaches of Le Poulbert and Le Men-dû then crosses the marshes of Kerdual.
It is a very nice walk, accessible for all, that has you discover preserved natural environments, and also the local man-made heritage : traditionnal villages, public wash basins and fountains, salt marshes and salt warehouses...
Practical information and details of the cicuit
- Easy walk
- Duration : around 1 hour and a half
- Length : 6 km
- Bicycles are allowed on the path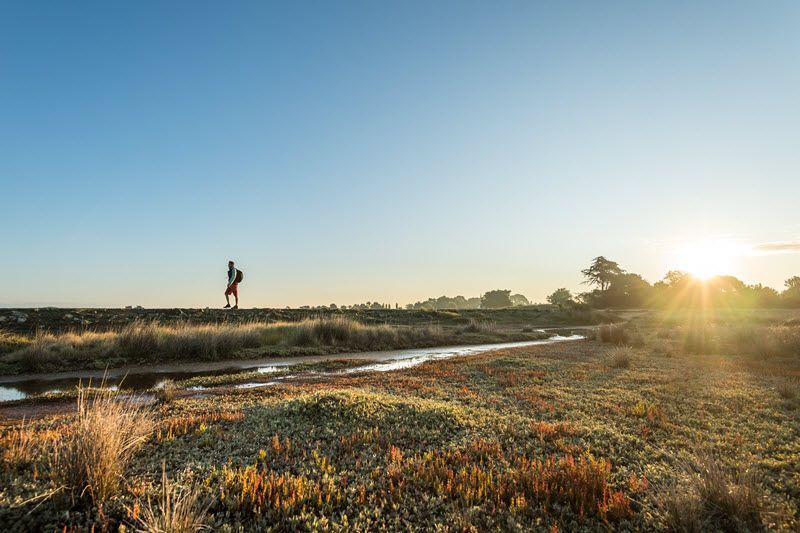 1- The walk starts on the carpark in the woods of Le Poulbert, but as do the hikers who stay with us, take advantage of our direct access to the coastal path to begin this walk from the campsite : just follow the beach and then cross the salt marshes of Kervillen, and into the woods of Le Poulbert.
Cross the "tourist route" that crosses the Poulbert Gully and isolates the marshes. The road offers a beautiful view of this untouched marsh.
From the Men-Dû car park, there is also a beautiful view of the beach and the sandbar that connects the island of Stuhan to the mainland. The island is accessible on foot at low tide.
2- After crossing the "tourist route", take the path that crosses the old salt marshes of Beaumer.
The old marsh water supply facilities, the ruins of the salt storehouse and some water basins are still visible.
The shrub vegetation that colonized this multi-acre area grew over the mud resulting from dredging for the construction of the marina of La Trinité in 1991.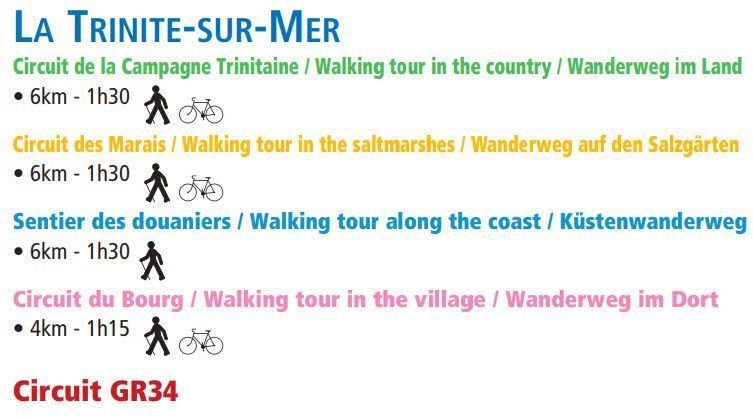 3- After crossing the D781 road, go to the "Kerdual estate", a private property built on an old salt marsh and whose salt storehouse is now a holiday home. Continue straight ahead and cross a shrub ( for about 150m).
You will come out on a small path: it is the old road that linked Carnac to La Trinité, probably from the Roman period road or even earlier.
Turn right towards Kervinio. After 200m, a calvary erected in memory of the abbot Baron, a Carnac priest assassinated by the republican troops (the "Bleus") during the French Revolution.
Whilst crossing the villages of Kervinio and Le Quéric, you will notice farmhouses (longhouses or set vis-à-vis), and small traditional houses, as well as the village commons (fountains and wash houses).


4- After the Fountain of Le Quéric, cross the eponymous residential area and the village of Kerchican and take the path along the Kerdro-vas estate and the marshes of Kerdual, that remain in their natural, untouched state, although blocked by the dike of Le Poulbert.
When you reach the Men-Dû road, go down a hundred meters and on the left, a "douet" and a fountain.
Return to the starting point by rue du Men-Dû or by the streets of Kerhino.

Click on the map to enlarge