Our favourite places
Bars, restaurants, shops with local products, games...
Going out in La Trinité sur Mer
Our favourite places. Often when we are on holiday we discover a little too late that friendly little restaurant or bar where you can enjoy a drink on the terrace or local producer who lets you taste his products. So we have decided to create a few sections on our website that will give you a few ideas, but don't forget that we are also available to advise you during your holiday too.
Bars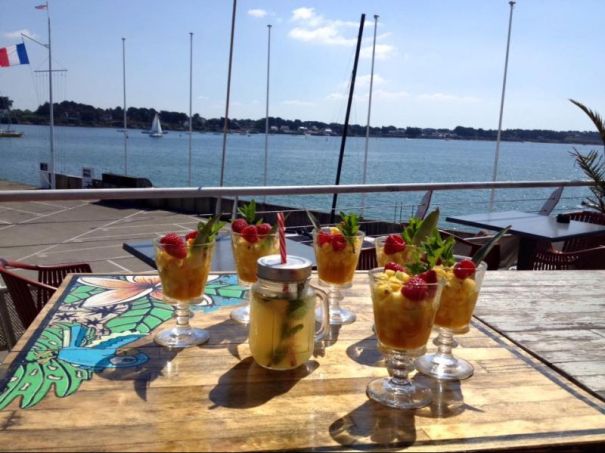 Bars
Op zoek naar een bar waar u naar live muziek kunt luisteren: meerdere locaties bieden u concerten:
At " l'Etage ", above the sailing school
At the "Zing ", near the Kerispert bridge, concerts are organised from time to time but we recommend you check out the entertainment programme at the Tourist Information Centre before booking your night.
The casino in Carnac also regularly organises live music nights.
Night bars :
La Trinité sur Mer is a popular town for sports enthusiasts who tend to go to bed at a reasonable hour. The Terrasses de la Plage, located next to camping de la Plage closes at 11.30 pm in July and August.
For the night life, you should head for Carnac-Plage (4 km from Camping de la Plage) :
The Cafe del sol (also a Spanish restaurant which serves tapas)
The Mora Mora rhum bar is definitely worth a visit on a night out in Carnac Plage (according to Carnac's Tourist Information Centre)
Seaview, panoramic view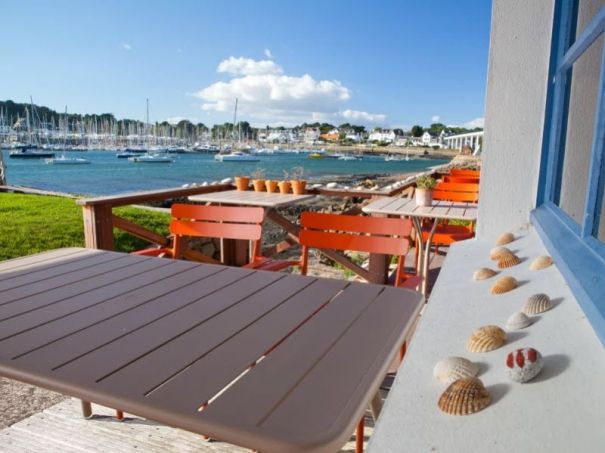 Several restaurants offer this particularity or should we say « pleasure » ! We have already mentionned the "Terrasses de la Plage" several times but we do have a few other suggestions :
The crêperie Le Goéland, is located on the first floor of « Les Quais » in la Trinité sur Mer and offers a lovely view over the harbour. The tables are rather close to each other so we recommend you book so you can get a table near the window.
L'Etage is located above the sailing school and boasts a nautical ambiance and a stunning view overthe harbour. The menu is unpretentious but it's worth going even just for a drink.
L'Azimut is La Trinité sur Mer's gourmet restaurant. If you can, try and go for lunch on the terrace as it boasts a very pretty setting…
Le Chantier, as its name suggests, is a former oyster farm offering simple fish dishes. You also pay for the view over the other side of La Trinité sur Mer's harbour (located after Kerispert bridge).
A sunny terrace...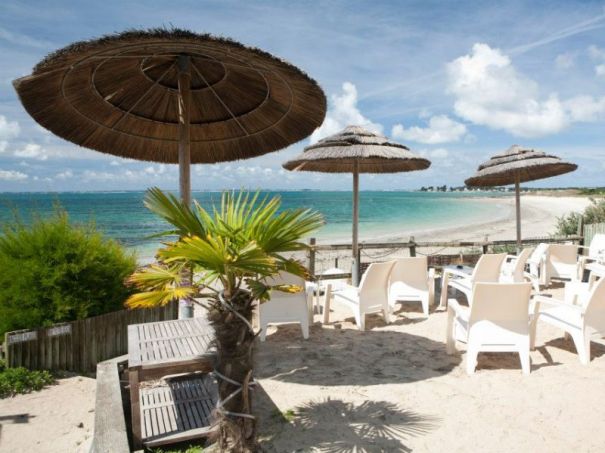 The quays at La Trinité sur Mer are east-facing so the bars are in the shade in the afternoon.
The sun's orientation is not a problem at the "Terrasses de la Plage" which offers one of the most fabulous views in the area.
"L'Etage" above the sailing school also boasts a sunny terrace if you climb to the top floor (it can be a bit windy sometimes). It also offers a fantastic view over La Trinité sur Mer's harbour.
You can also sit in the sun at the "Zing".
Our advice :
However, since the installation of new terraces near the old harbour in 2015, it is lovely to sit on the quays of a morning to enjoy a coffee.
A delicious ice-cream...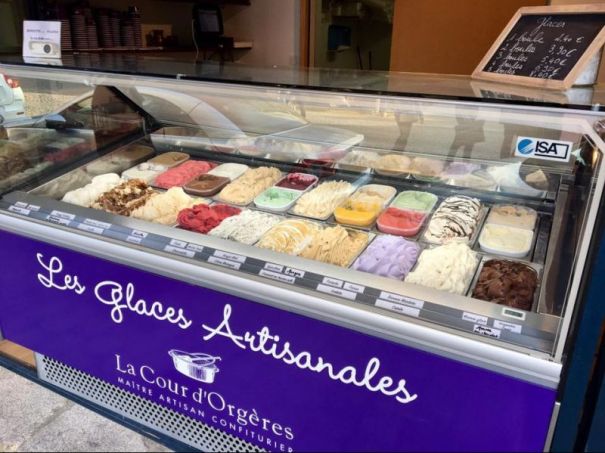 You can enjoy a nice ice-cream on the quays of La Trinité sur Mer at La Cour d'Orgères.
But at l'Igloo in Carnac-Plage, you can choose from over 200 flavours, some of which are admitttedly bit dubious !
Where to eat with the children
At the crêperie Saint François in la Trinité-sur-mer, which has an enclosed garden s a fantastic decor in the middle of a garden).

Where to eat a crêpe at all times
The crêperie Ty Malou is also open in the afternoon during the summer and on Sundays in spring.
Local products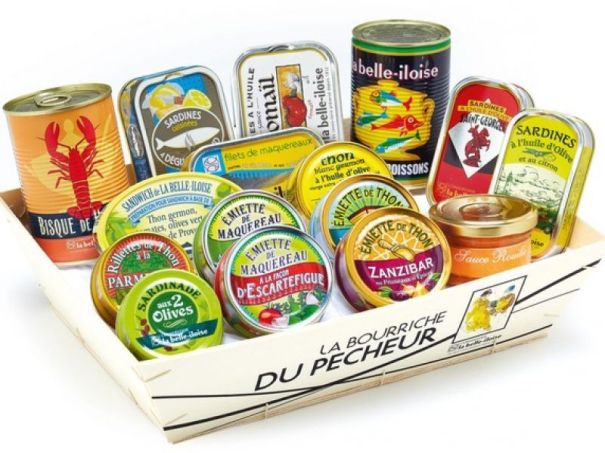 After tasting them at the restaurant you may want to take a few Breton delicacies home with you.
We recommend you head for the local markets where you will find seafood, local jams, pastries, cooked meats (Brittany, region of pork), but there are also shops selling local produce too :
Where to buy seafood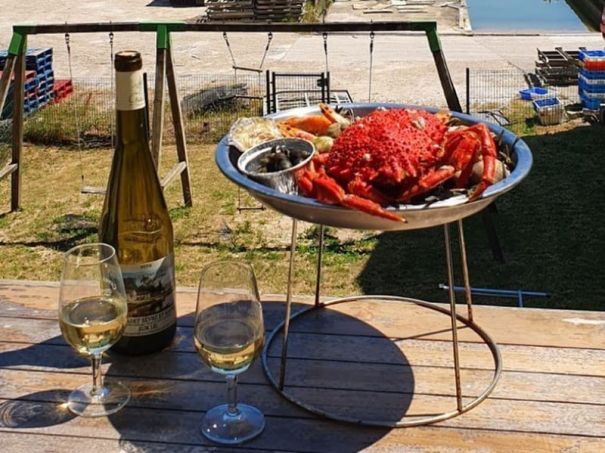 La Trinité sur Mer is also renowned for the quality of its seafood. There are numerous oyster farms in Saint Philibert on the bank facing the River of Crach.
Amongst them, la maison Quintin : "la Perle de Quéhan" produces special oysters in the bay of Quiberon. You can taste them and visit the oyster farm (organised by the Tourist Information Centre). The fish market « La Criée », is open every morning at La Trinité sur Mer's harbour.
You can buy fish caught the day before from Quiberon and Lorient as well as shellfish collected from local farms and from our coasts (clams, cockles, whelks…)
For an authentic seafood experience in a cosy, relaxed ambiance, Jaouen is a definite must ! A seafood buffet at lunchtime where you eat as much as you like or mussels and chips… all this a stone's throw from Kerispert bridge.
If you would rather stay closer to the campsite, the Terrasses de la Plage offers seafood platters to eat in or take-away.
Where to play...
The Casino of Carnac : slot machines, game tables.
Bar Le Marigny at Carnac
Le Bar Tab' at La Trinité sur Mer