Craftsmanship, garage sales, traditional and organic markets in South Morbihan
Local markets, craftsmanship, flea markets : your appointements for the summer
The holidays are a time for trying new taste and flavors. They are also a time during which you can take your time for shopping, looking for conviviality, exchanges, being surprised to better surprise.
Whether they be traditional, organic, markets for books, flea markets, markets are part of the life of Breton villages and towns. They are places of life, exchange and surprises
Traditional and organic markets
La Trinité sur Mer and Carnac
You will have no problem finding markets near the campsite : two markets per week (Tuesdays and Fridays) in La Trinité sur Mer, and two per week (Wednesdays and Sundays) in Carnac.
An organic market sets up on Tuesday mornings on Place de Port-En-Dro in Carnac-Plage in July and August.
The fish market in La Trinité sur Mer is open every morning.
Auray
The large market on Monday mornings in Auray is an event in itself: it brings together nearly 400 exhibitors in the summer, It is set in the town center from 8 am to 2 pm.
More modest, the organic market on Thursday evenings (5 pm to 8 pm) brings together about 25 traders. For a list of local markets, please refer to the website "market days".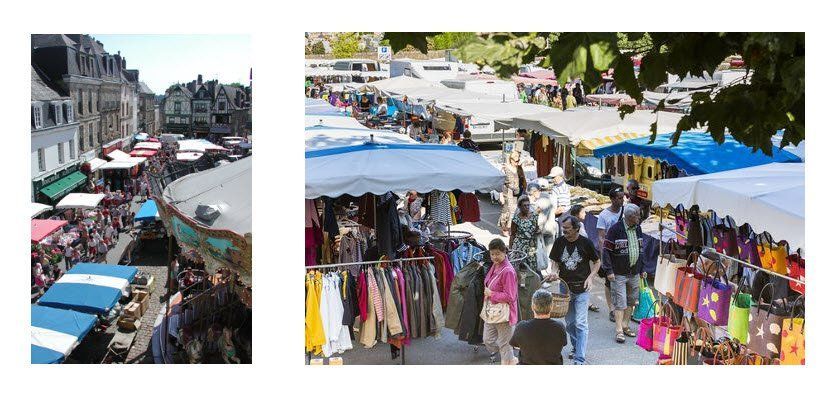 Garage sales and flea markets
Whatever their given name, these events are regularly organized from April to October, most often on the weekends, in order to benefit from a greater affluence.
For the individual sellers, it is a question of getting rid of objects that they no longer use, for the professionals, to offer these most beautiful pieces or to try to find the rare piece. For both to get a good deal, or at the very least to be able to look around, search about, and possibly be amazed.
A few dates for garage sales and flea markets during the summer 2019 in South Morbihan
- Plouharnel : garage sale on 7th July
- Auray : flea market on 14th July
- Carnac : evening markets every Thursday followed by a fest-noz (musical "Night Festival" in Breton)
- Pluvigner : flea market on 28th July
- La Trinité sur mer :
- Locmariaquer : books, vinyl records and postcard market : every Monday in July and August / flea market on 21th July, the largest in Morbihan with around 300 stalls
- Crac'h : flea market of Saint Aubin and Pardon on 25th August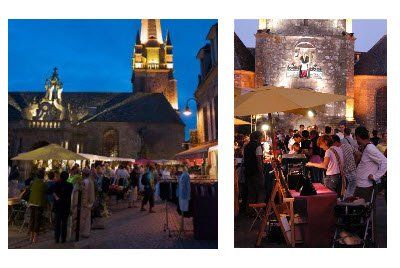 Craftsmanship : your summer dates 2019
In the summer, some towns organize markets that emphasize local food and craftsmanship.
It is the opportunity for artisans, artists, creators to show their products, their works, to meet the public and eventually to do some business.
It is also an occasion to bring some activities in important places of tourism as in Saint-Goustan in Auray and the church square in Carnac.
For tourists and the local population, it is the opportunity to treat themselves or others: original jewelry, ceramics, wooden objects ...

- Carnac: every Thursday at 6 pm in July and August
- Saint-Goustan Auray: several events during the summer
Cities of history and of the arts
The "Cour des Métiers d'Art" in Pont-Scorff
In Pont-Scorff, near Lorient, the Cour des Métiers d'Art, housed in a 17th century house, promotes the know-how of a hundred contemporary artists.
In a 400 sq. metre shop, these present their new creations and meet the public.
For 25 years, the Cour des Métiers d'Art has become an unavoidable exhibition and sales venue.
In addition, five temporary exhibitions are organized every year on the theme of arts and crafts.
Free visit. Open all year.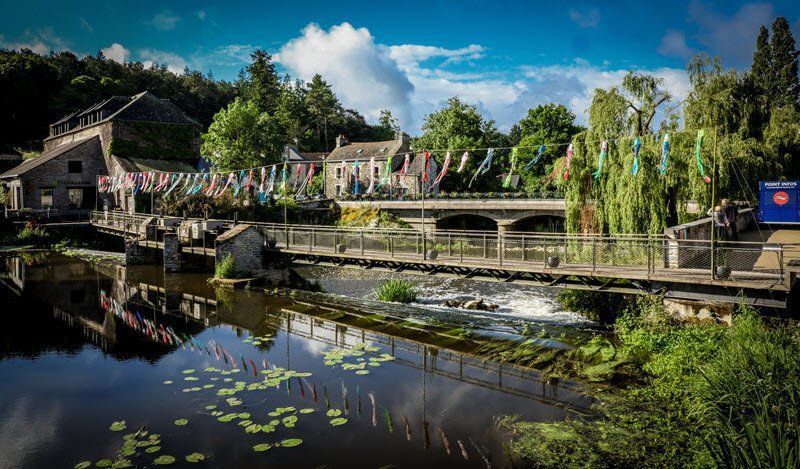 La Gacilly
Nestled on the banks of the River Aff, La Gacilly is now known for its international photo festival which transforms the village every year from June to September into an immense gallery of photographic art.
But for the last 35 years, it has also been a place of art and crafts. In the village's flowery streets, you can weet master glassmakers, wood carvers or jewelry designers.
An association brings together no fewer than thirty artisans with sometimes its share of unusual crafts (the art of making weathervanes or art knives).
Rochefort en Terre
Rochefort-en terre needs no introduction since it became in 2016, the French's favorite village.
A small scenic town and a beautiful flowered village, the town made an economic comeback at the beginning of the 20th century when a rich American painter fell in love with it.
The beauty of the stone buildings have since attracted there other artists who ended up settling down there.